The top of the 8 Series BMW line arrives to Mexico in Horizon Creatives.
The 1995 BMW 850CSi used an upgraded version of the engine fitted to the 850i, it was so vastly improved that BMW had to label this new motor differently, and it was now known as the S70B56. This new engine had a 5.6-liter capacity, making it bigger; and it produced 375 bhp which meant it was definitely meaner.
As an authentic touring car star, the 850CSi drives from the rear wheels and its massive power is controlled through a 6-gear transmission.
You can ride on this mean machine by earning 80 PTS on this series from September 21 until October 12!
Help us create the game you want to play! If you want to see a particular car on Forza Horizon 5, share your ideas with us on the Suggestions Hub.
You can always get in touch with us on the Troubleshooting Hub to report any issues that arise with this and later updates.
This is what you can expect from the Festival Playlist on Week 1 of Horizon Creatives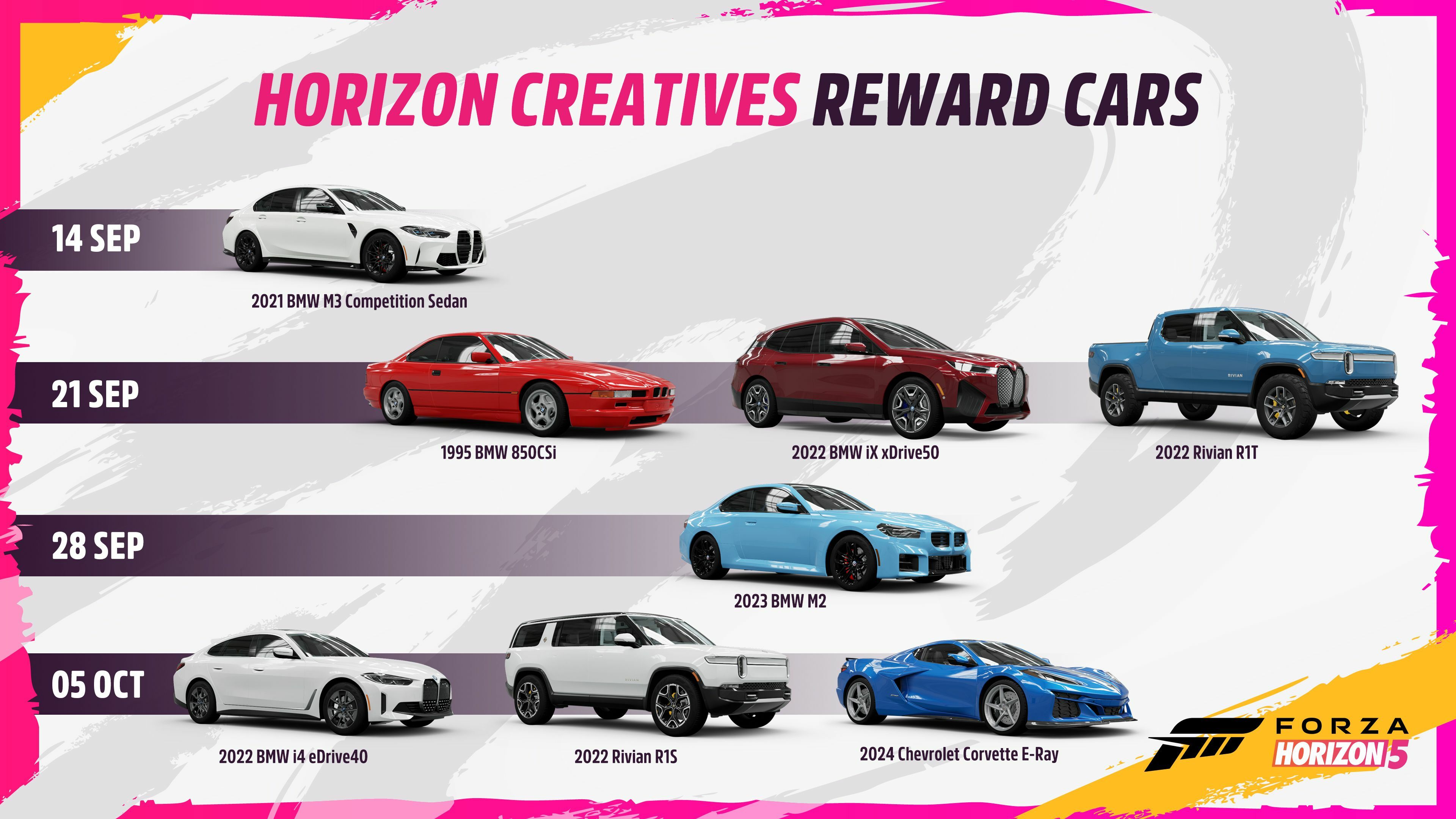 SERIES REWARDS
80 PTS: 1995 BMW 850CSi
160 PTS: 1995 Porsche 911 Carrera 2 by Gunther Werks
SPRING REWARDS
20 PTS: 2021 BMW M3
40 PTS: 2015 Mercedes-AMG GT S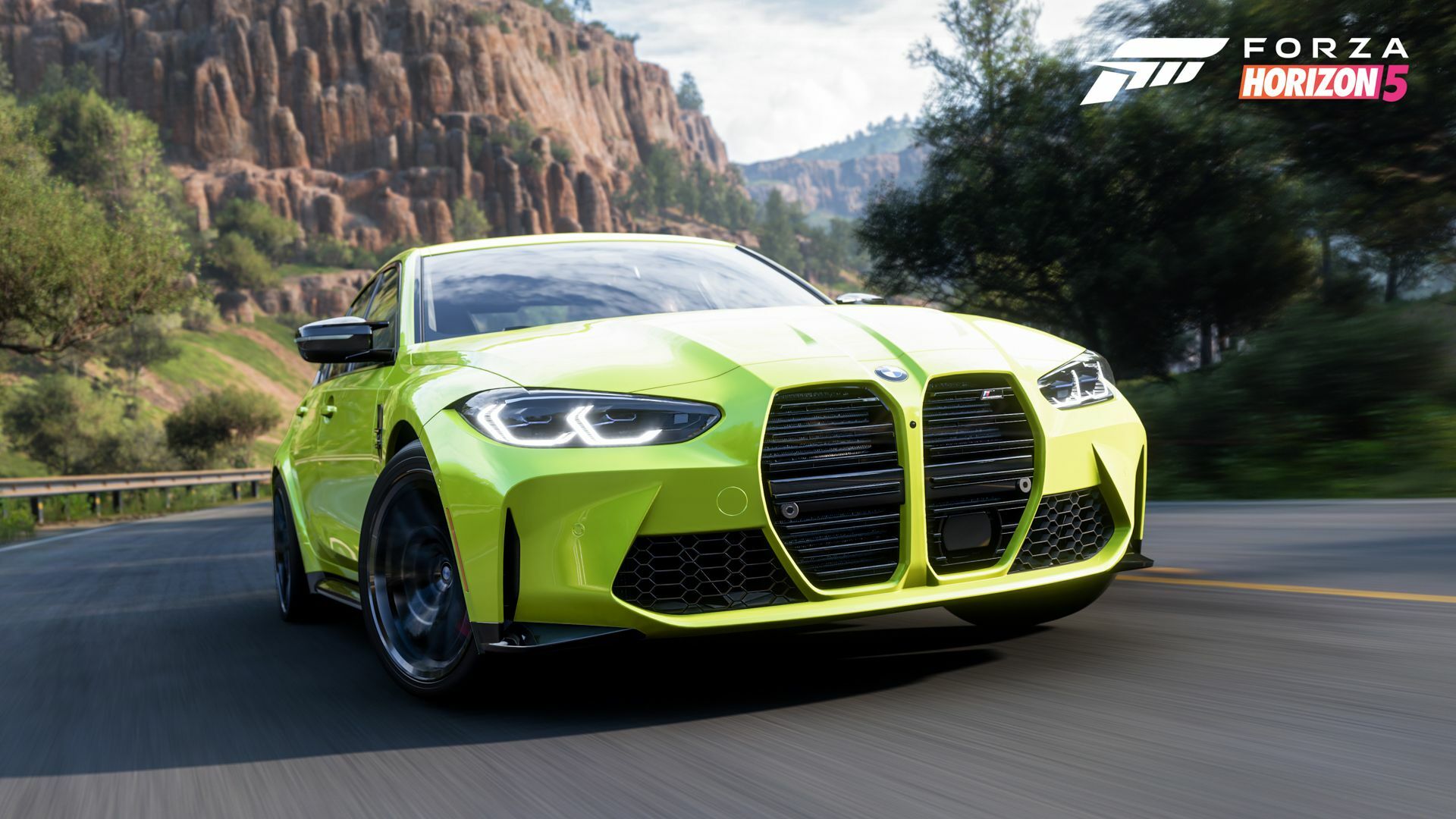 One of the most iconic sedans of all time is back in the 2021 BMW M3. We can tell this modern classic has been hitting the gym, just take a look at its brand-new bulkier design screaming for you to take it out on the track!
The 2021 M3 will be available to unlock for 20 PTS on the first week of the Festival Playlist.
A true racing exotic will be available in the Forzathon Shop as the 1998 TVR Cerbera Speed 12 becomes available for 75 FP. And if you are looking for some new flare, we will also put the Cuckoo Car Horn and Spaik Jumper for purchase.
Keep on reading to find a complete list of unlockables and rewards for the "Summer" season of this new series.
Category 
Event 
Restriction 
Reward 
Seasonal Points 
Forzathon Weekly 
Elite Elise 
1999 Lotus Elise Series 1 Sport 190 
160 Forzathon PTS 
5 PTS 
Monthly Rivals 
Lookout Circuit – Road Racing 
2023 BMW M2 
N/A 
4 PTS 
Monthly Rivals 
Ruta Norte – Street Racing 
1996 BMW 850CSi 
N/A 
4 PTS 
Monthly Rivals 
Baja California Trail – Dirt Racing 
2022 Rivian R1T 
N/A 
4 PTS 
Monthly Rivals 
Herencia Cross Country Circuit – Cross Country 
2022 Rivian R1S 
N/A 
4 PTS 
EventLab 
Dunas Rallycross Circuit 
Modern Rally & Rally Monsters – A 800 
2004 Subaru Impreza WRX STi 
10 PTS 
EventLab 
Scinaty Part 1 Oval 
Extreme Track Toys – S2 998 
Kick Ups 
3 PTS 
EventLab 
Horizon Mexico Rally [Short] 
Classic & Retro Rally – B 700 
Super Wheelspin 
3 PTS 
The Trial 
It's Super Effective! 
Modern Supercars – S1 900 
2014 Porsche 918 Spyder 
10 PTS 
Seasonal Championship 
Y2K 
Decade: 2000s – A 800 
2011 Mercedes-Benz SLS AMG 
5 PTS 
Seasonal Championship 
Retro Active 
Retro Rally – B 700 
1993 Nissan Skyline GT-R V-Spec 
5 PTS 
PR Stunt 
Autopista – Speed Trap 
1994 Nissan 240SX 
Super Wheelspin 
2 PTS 
PR Stunt 
Estadio – Speed Trap  
1994 Nissan 240SX 
Super Wheelspin 
2 PTS 
PR Stunt 
Calle Principal – Speed Trap 
1994 Nissan 240SX 
Super Wheelspin 
2 PTS 
Hot Wheels Seasonal Championship 
Intensity. Driven. 
Aston Martin – A 800 
2019 Aston Martin DBS Superleggera 
5 PTS 
Hot Wheels PR Stunt 
Water's Edge – Drift Zone 
1997 BMW M3 E36 
Super Wheelspin 
2 PTS 
Rally Adventure Seasonal Championship 
Turn Up the Heat 
Retro Hot Hatch – C 600 
2008 Mitsubishi Lancer Evolution X GSR 
5 PTS 
Rally Adventure PR Stunt 
Tierras Verdes – Drift Zone 
1997 BMW M3 E36 
Super Wheelspin 
2 PTS 
Photo Challenge 
#SpaceProject 
Photograph the 2021 Mercedes-AMG ONE at the Gran Telescopio 
TO THE MOON 
2 PTS 
Treasure Hunt 
Horizon Rush Treasure Stunt 
Find the hidden obstacle course near the Horizon Rush Festival Site 
100.000 CR 
3 PTS 
The Eliminator 
The Eliminator Challenge 
Finish 30th or better 
Welcome to The Eliminator! 
2 PTS 
Horizon Arcade 
Mini Games 
Complete any Horizon Arcade Event 
N/A 
3 PTS 
Horizon Super7 
The Super7 Challenge 
Complete all 7 Challenge Cards 
Super Wheelspin 
N/A 
News from the Forza Franchise
Preorder Forza Motorsport on Steam
Pre-order the Forza Motorsport Premium Edition so you can start your engines up to 5 days early beginning October 5.
https://store.steampowered.com/app/2440510/Forza_Motorsport/
Check out the Forza Horizon 5 Italian Exotics Car Pack
Collect and drive 7 Italian new-to-Forza cars including the 2023 Lamborghini Huracán Tecnica, 2022 Ferrari 296 GTB, 2021 Lamborghini Essenza SCV12, 2020 Ferrari Roma, 2020 Lamborghini SC20, 2019 Italdesign DaVinci Concept and 2018 Lamborghini #63 Squadra Corse Huracán Super Trofeo Evo.
https://store.steampowered.com/app/2507010/Forza_Horizon_5_Italian_Exotics_Car_Pack/?curator_clanid=40722422



Source link