BMW's signature coupé looks bigger than ever. Get a hold of the 2023 BMW M2 on the third week of Horizon Creatives.
This fierce-looking version of the M2 was designed in Mexico by Mexican designer José Casas; we figure he had "how to go faster" on his mind while he made his early sketches.
The result is a completely mad car equipped with a 3.0 – liter straight 6 –cylinder engine capable of sprinting from 0 – 100 km/h in 4.2 seconds that looks like the powerhouse it is.
Unlock the M2 from September 28 until Octobre 5 by earning 20 PTS on the Festival Playlist.
Let us know what you'd like to see in Forza Horizon 5 in the future. Send your ideas and suggestions to our team through the Suggestions Hub.
If you into any issue on this update or others in the future, please let us know on the Troubleshooting Hub.
Winter has arrived at the Horizon Festival, and with-it new rewards you cannot miss! Take a look at what's in store for you during this season: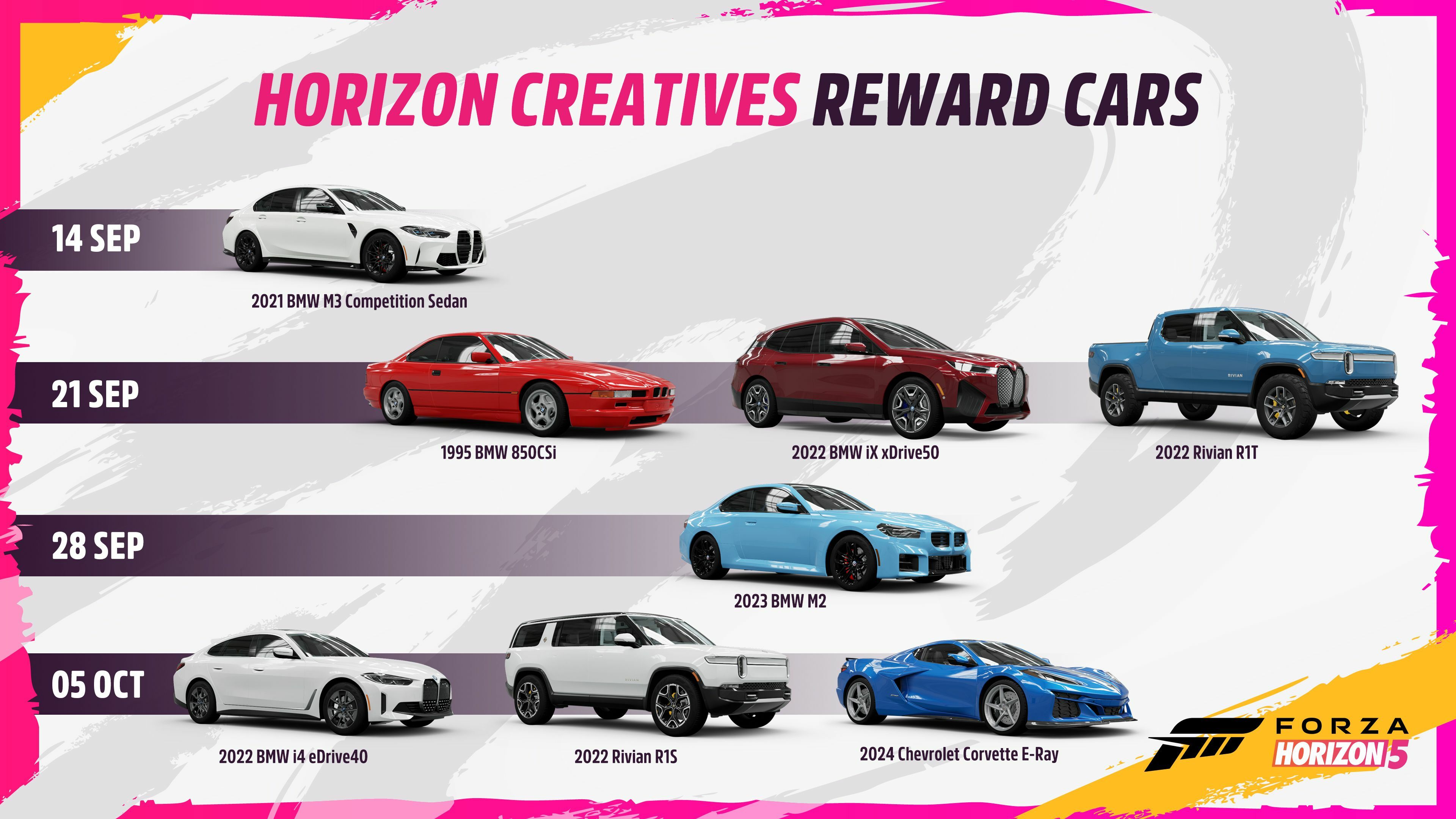 SERIES REWARDS
80 PTS: 1995 BMW 850CSi
160 PTS: 1995 Porsche 911 Carrera 2 by Gunther Werks
SPRING REWARDS
20 PTS: 2023 BMW M2
40 PTS: 2010 BMW M3 GTS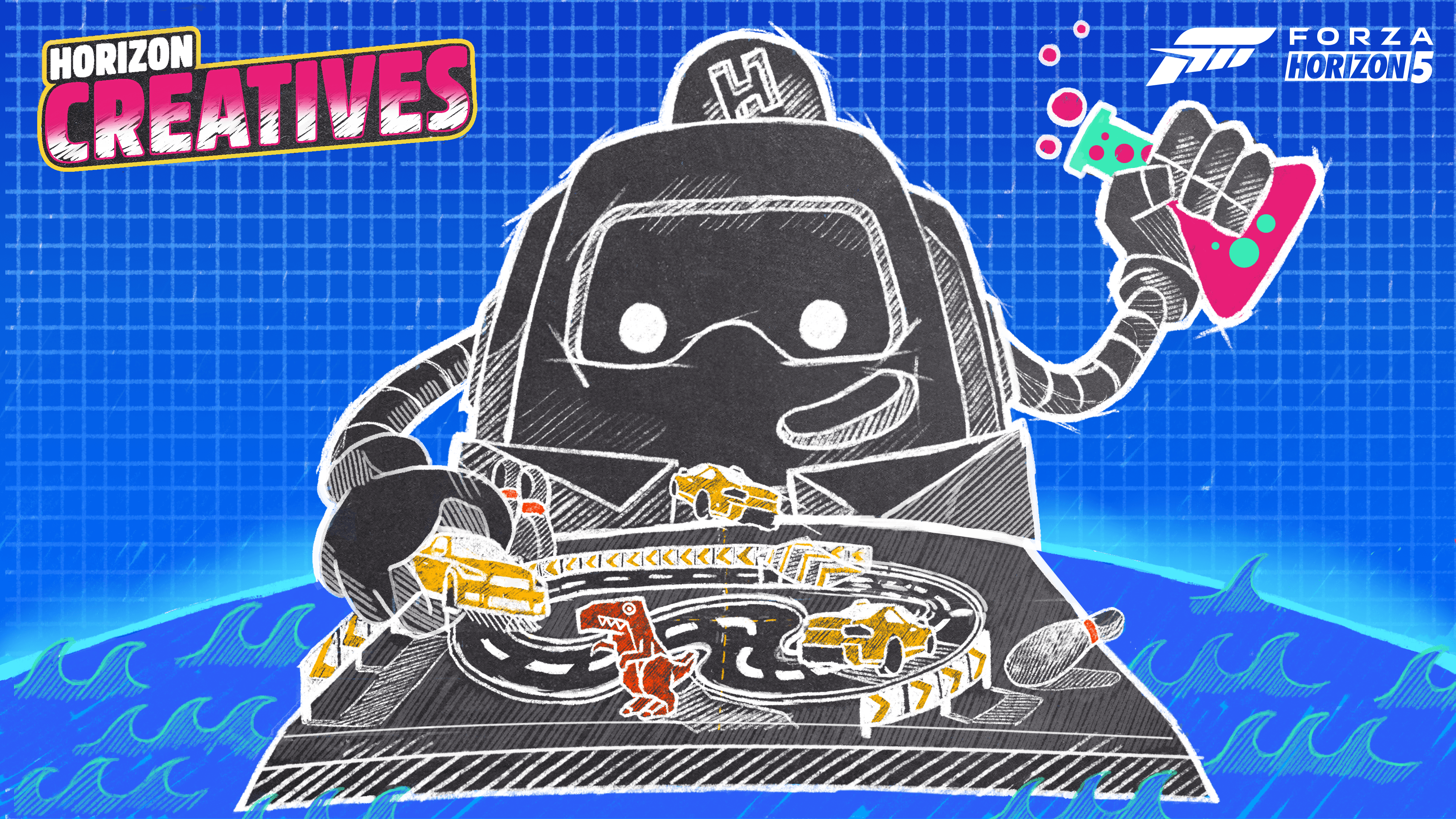 A new smashable item is available to ram into this series, the Flask Collectible will explode into a burst of color once you have knocked it over.
Take a ride on the final obstacle course of Horizon Creatives! Go through its ups, downs, jumps, and bridges as you try to find the hidden treasure chest within it. This time, it will be waiting for you to take it on near the Horizon Baja Festival Site. The entire construction of the course was made from items available in EventLab 2.0, which means you can create your very own obstacle courses for other players to try and beat!
The Forzathon Shop puts the roaring 2016 Audi R8 V10 plus up for sale as well as the classic 1929 Mercedes-Benz SSK to relive its glory days on the track.
This week's style choices are not too shabby either, a complete builder's set becomes available for you to purchase at the Forzathon Shop.
Category 
Event 
Restriction 
Reward 
Seasonal Points 
Forzathon Weekly 
Reporting for Duty 
2020 Ford Super Duty F-450 DRW 
160 Forzathon PTS 
5 PTS 
EventLab 
Ewok Village Rally 
Offroad – B 700 
2003 BMW M5 
3 PTS 
EventLab 
ESV Green's Onyx Bridge Circuit 
Track Toys – S1 900 
2017 Ford GT 
3 PTS 
The Trial 
Muscle In 
Classic Muscle vs Modern Muscle – A 800 
Super Wheelspin 
3 PTS 
Playground Games 
King for a Day 
Pickups & 4x4s – B 700 
I want to play a game 
10 PTS 
Seasonal Championship 
Going on Tour 
GT & Super GT – A 700 
2016 Dodge Viper ACR 
5 PTS 
Seasonal Championship 
A Minor Inconvenience 
Mini & Morris – C 600 
2016 Cadillac CTS-V Sedan 
5 PTS 
PR Stunt 
Reservoir – Drift Zone 
2002 Mazda RX7 Spirit R 
Super Wheelspin 
2 PTS 
PR Stunt 
Arbolada – Drift Zone 
2002 Mazda RX7 Spirit R 
Super Wheelspin 
2 PTS 
PR Stunt 
Hillside – Drift Zone 
2002 Mazda RX7 Spirit R 
Super Wheelspin 
2 PTS 
Hot Wheels Seasonal Championship 
Saleen Machine 
Saleen – S1 900 
2002 BMW Z3 M Coupe 
5 PTS 
Hot Wheels PR Stunt 
Hammer's Shadow – Speed Trap 
2015 McLaren 570S Coupé 
Super Wheelspin 
2 PTS 
Rally Adventure Seasonal Championship 
Rally Around 
UTVs – B 700 
1983 Volvo 242 Turbo Evolution 
5 PTS 
Rally Adventure PR Stunt 
Orogrande Rush – Speed Trap 
2016 Audi R8 V10 Plus 
Super Wheelspin 
2 PTS 
Photo Challenge 
#AvantGardens 
Photograph any Audi Avant in the gardens of the Hotel Castillo Player House 
Painter Hoodie 
2 PTS 
Treasure Hunt 
Horizon Baja Treasure Stunt 
Find the hidden obstacle course near the Horizon Baja Festival Site 
100.000 CR 
3 PTS 
The Eliminator 
The Eliminator Challenge 
Finish 30th or better 
Welcome to The Eliminator! 
2 PTS 
Horizon Open 
Driving Miatas 
Mazda MX-5 
2011 Mazda RX-8 R3 
3 PTS 
Collectibles 
Boiling Point 
Keep your cool and smash 20 EventLab Flasks! 
Gotta Smash Em All! 
3 PTS 
Horizon Super7 
The Super7 Challenge 
Complete all 7 Challenge Cards 
Super Wheelspin 
N/A 
News from the Forza Franchise
Preorder Forza Motorsport on Steam
Pre-order the Forza Motorsport Premium Edition so you can start your engines up to 5 days early beginning October 5.
https://store.steampowered.com/app/2440510/Forza_Motorsport/
Check out the Forza Horizon 5 Italian Exotics Car Pack
Collect and drive 7 Italian new-to-Forza cars including the 2023 Lamborghini Huracán Tecnica, 2022 Ferrari 296 GTB, 2021 Lamborghini Essenza SCV12, 2020 Ferrari Roma, 2020 Lamborghini SC20, 2019 Italdesign DaVinci Concept and 2018 Lamborghini #63 Squadra Corse Huracán Super Trofeo Evo.
https://store.steampowered.com/app/2507010/Forza_Horizon_5_Italian_Exotics_Car_Pack/?curator_clanid=40722422



Source link