The objective is simple: Become the greatest player of all time in NBA 2K24. 
Alright, maybe becoming the GOAT isn't as simple as it sounds, but MyCAREER mode in NBA 2K24 is your chance to make it happen. Do you have the skills and the drive to prove yourself as the best prospect since LeBron James? 
This year is all about your basketball career and offers a more streamlined experience so you can focus on what matters most to you. Earn REP (more on that below) and follow your NBA dreams along the winding streets and beautiful shores of The City, available on PlayStation®5 and Xbox Series X|S consoles. Rich with a bustling nightlife and immaculate vibes, you'll notice several enhancements, such as streetball side quests, a refreshing beachfront environment, and new Affiliations that we're eager to share with you!
IT'S ABOUT BASKETBALL
MyCAREER has always been about pursuing your dreams, whether it's becoming an NBA All-Star or exploring other passions off the court—but in NBA 2K24 the dream focuses on becoming the GOAT.
Begin your NBA journey by stepping into the limelight as the most anticipated prospect in the last 20 years. Chase on-court accomplishments such as Rookie of the Year and climb from the GOT NEXT Tier to the GOAT Tier.
NBA 2K24 introduces a new 'key games' feature, allowing you to play your most important games based on the matchup, rival teams, and milestone achievements. It's an expedited way to reach GOAT status. You'll earn extra payouts for completing goals and winning games, earn recognition for setting records, and be the big media draw at press conferences. Adding rings and accolades to your trophy case will only heighten your fame.
This year, keep your eyes on the prize and put all of your effort into delivering one of the greatest careers that the league, pundits, and fans have ever seen. You just might make history.
BASK IN A BEACHFRONT CITY
A new sun rises on New Gen consoles in the vibrant, sun-soaked, and stunningly picturesque City. Bordering white sand beaches, with breathtaking views in every direction, The City's beachfront courts are the perfect canvas to unleash your dazzling skills and creative crossovers. Drift and meander through The City's streets to stumble upon new buildings, courts, and Affiliations. When the sun sets and night falls, The City is illuminated by neon lights that accentuate and complement the electrifying energy of its inhabitants. Day or night, The City radiates good times and promotes fierce competition.
Take a stroll along the water and you'll find the 3v3 beachfront courts open for casual competition. You will naturally gravitate toward this section of The City thanks to its panoramic views and lively ambiance.
The beachfront street is home to the Pro-AM, The REC, Ante-Up, Theater, Club 2K, and all-new Starting 5 buildings. Making its debut in NBA 2K24, Starting 5 is an online, 1v1, head-to-head mode where you'll challenge others using a team made up of your MyPLAYER and four other NBA players. Each game you'll choose a team and slot yourself into the starting lineup alongside some of the NBA's biggest names. The style of play feels like a standard MyCAREER game but allows you to play online and get in the game quickly by yourself.
SHUT IT DOWN IN STREETBALL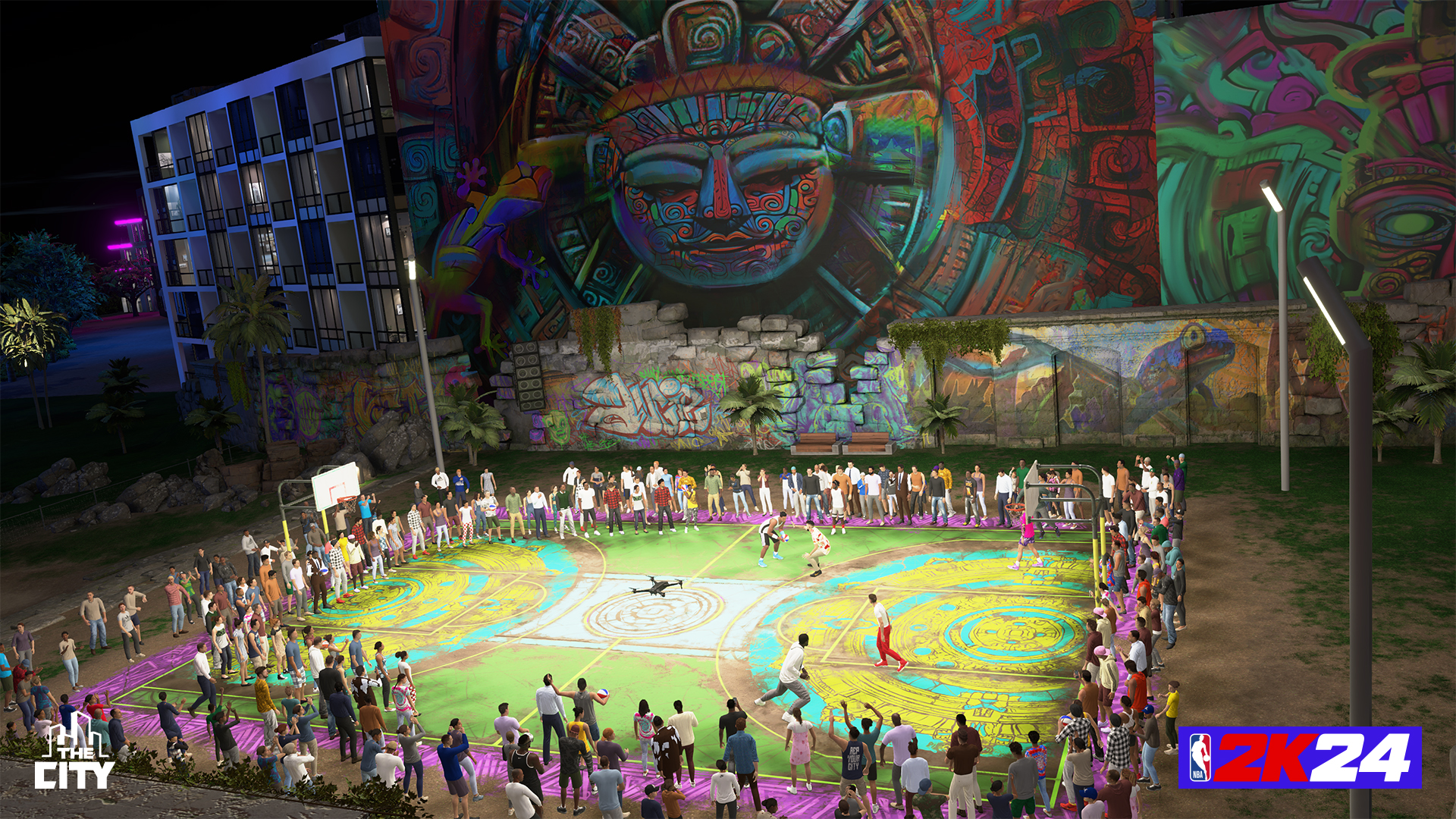 MyCAREER is primarily about your basketball journey and the ultimate goal of League stardom, but the Streetball side quest is an exciting single-player experience outside of the main NBA path. 
There are three courts throughout The City where you'll find challenging bosses, teams with skills to beat, and a raucous environment featuring an MC, DJ, and a crowd excitedly waiting to rush the court and shut it down. Streetball has its own progression system, with the chance to earn game-changing Takeover perks, which can set your MyPLAYER apart from the opposition in The City. Streetball has compelling rewards and offers a unique style of competition you won't find anywhere else.
REP YOUR AFFILIATION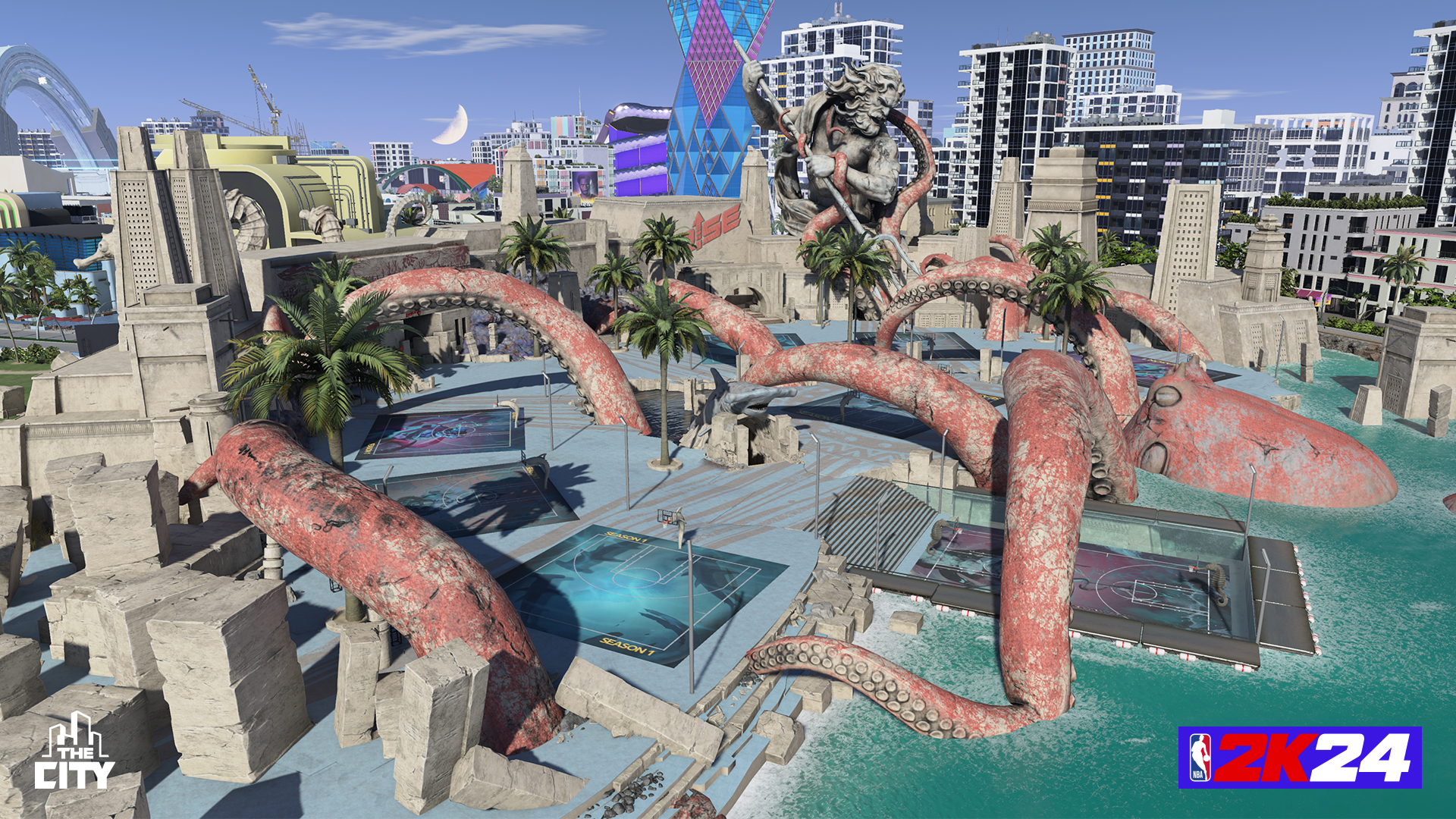 Your MyCAREER quest for greatness will present challenges and obstacles that you'll need to navigate on your own, but in Affiliations, you can work alongside fellow players to earn rewards and achieve bragging rights.
In previous iterations of NBA 2K, Affiliations were broken into four quadrants, however, this year we're pitting two Affiliations, RISE and ELITE, against each other. Each Season, members of RISE and ELITE will fight to lift their Affiliation to victory, with the winning side and top contributors reaping new prizes.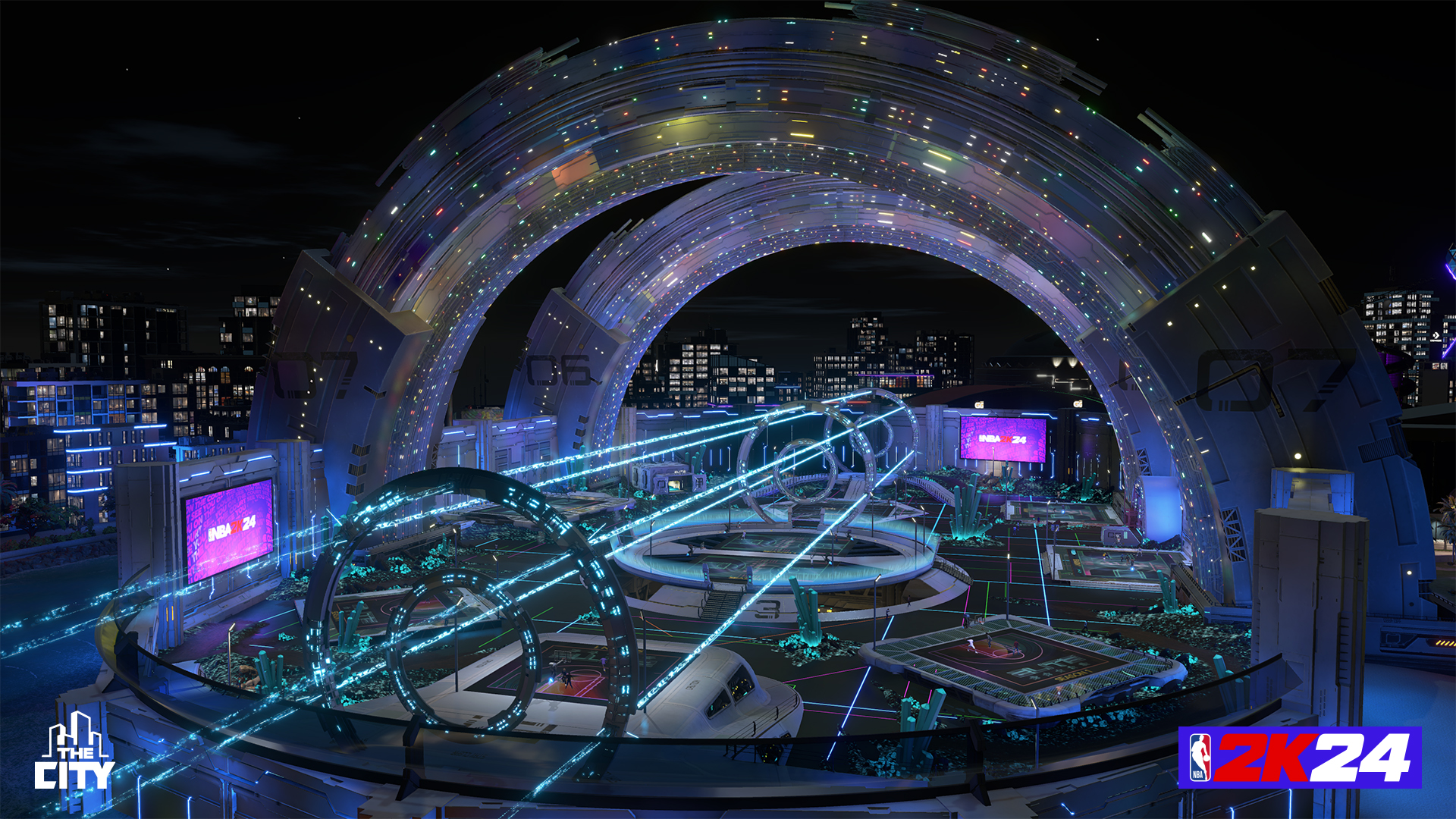 Initially, you'll be unaffiliated with either side; it's up to you to do your homework and determine which group is the best fit for you. Explore the Atlantis-themed world of RISE, featuring aquatic accents that would make Poseidon proud. ELITE immerses players in a futuristic world where neon lights and sleek designs create a clean and bright environment—this is especially neat to witness at night. You can learn more about the rival sides by talking to Chris Manning (ELITE) and Shakedown (RISE) in-game. No matter your decision, compete with pride as you fight for your Affiliation and earn REP. That's right—REP is back in NBA 2K24!
Start as a humble rookie looking to prove yourself and earn REP by playing in games. Players worked diligently to become a Legend in NBA 2K23, but to be the greatest in NBA 2K24 you'll have to maintain your spot in the Top 10. Earning a coveted spot in the Top 10 will grant you a special logo and rewards only available to the 10 players with the most REP. If you take your foot off the gas and lose your drive, someone's sure to take your place, and with it all of your special rewards and Top 10 title. Fortunately, REP doesn't reset at the start of a new Season—just know that your REP will reset if you decide to change Affiliations, so make sure you choose wisely!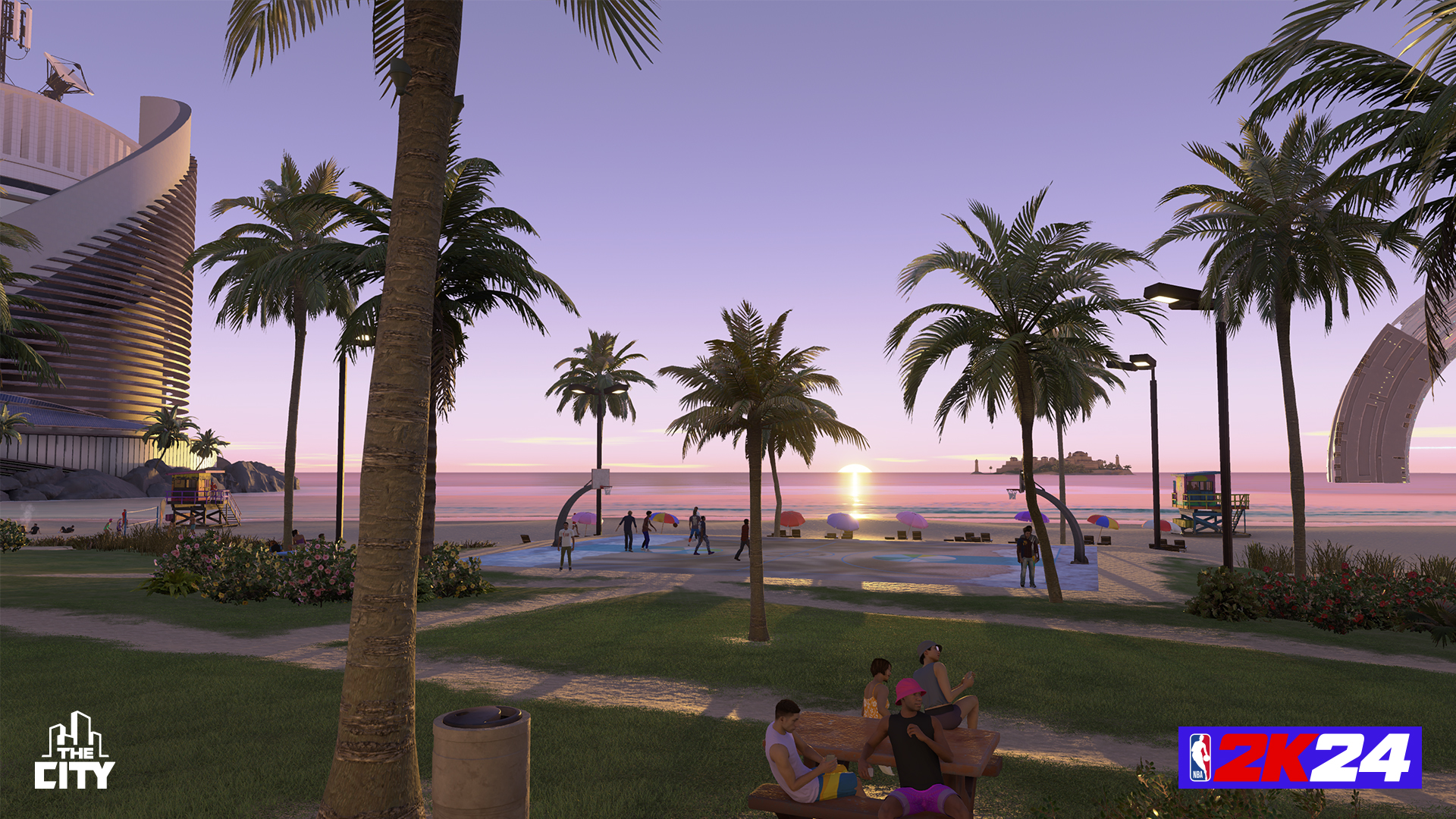 NBA 2K24 is all about becoming the greatest player of all time. Pursue your place in history and compete against other players who are determined to prove they're worthy of Top 10 status, all against the gorgeous backdrop of the series' most scenic setting to date. We can't wait for you to get in the game and experience it all yourself. If you haven't already, be sure to check out our other Courtside Reports and learn more about everything available in NBA 2K24 this year.