Blog: http://www.rocketleague.com/news/race-with-nascar-s-75th-anniversary-and-irl-rocket-league-car/
Vroom Vroom
The smell of burning rubber fills the air while the stock cars of NASCAR round the final corner. As the checkered flag waves, the drivers suddenly find themselves facing a whole new type of challenge: Soccar! In celebration of NASCAR's 75th anniversary, we welcome a new set of Team Decals (including an in-game Decal based on 23XI Racing's IRL Rocket League livery,) the return of the 2022 Fan Pass lineup, and a new NASCAR's 75th Anniversary decal!
Join the race from September 13 to September 26.
NASCAR Leads the Pack
Since the very first race day at Daytona Beach 75 years ago, NASCAR has thrilled millions with speed, drama, and incredible skill.
Fast forward to today, and you can bring that racing heritage to the Arena with the Next Gen Toyota Camry, Next Gen Ford Mustang, and Next Gen Chevy Camaro! We're releasing a whole new set of team livery Decals this year, including a special NASCAR 75th Anniversary Decal. You'll also have a chance to run laps around your opponent as DFH Stadium (Circuit) returns to the Arena rotation.
Already have the cars from last year? We'll also have a bundle with decals only, so you can update your collection with all the newest NASCAR livery.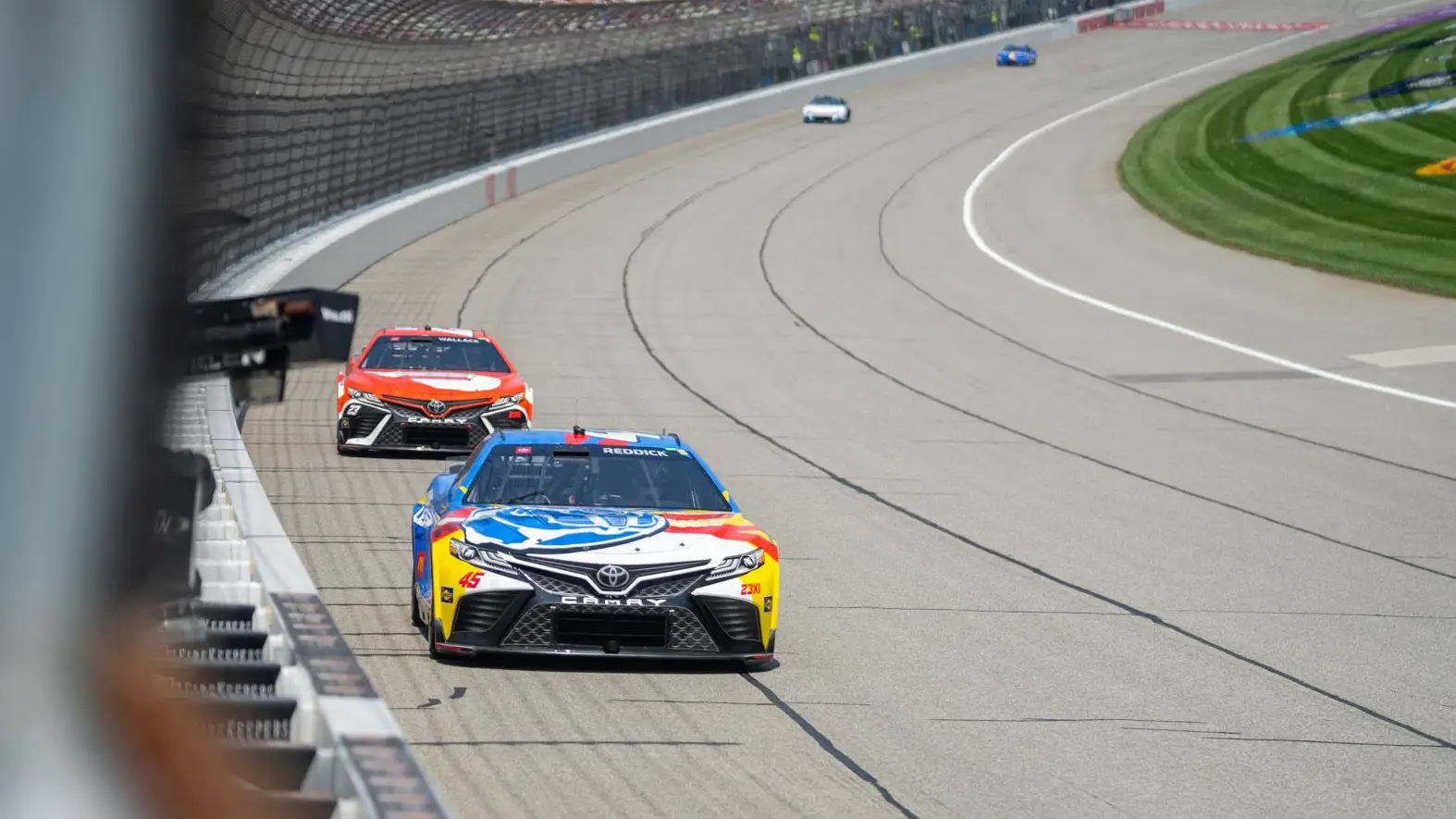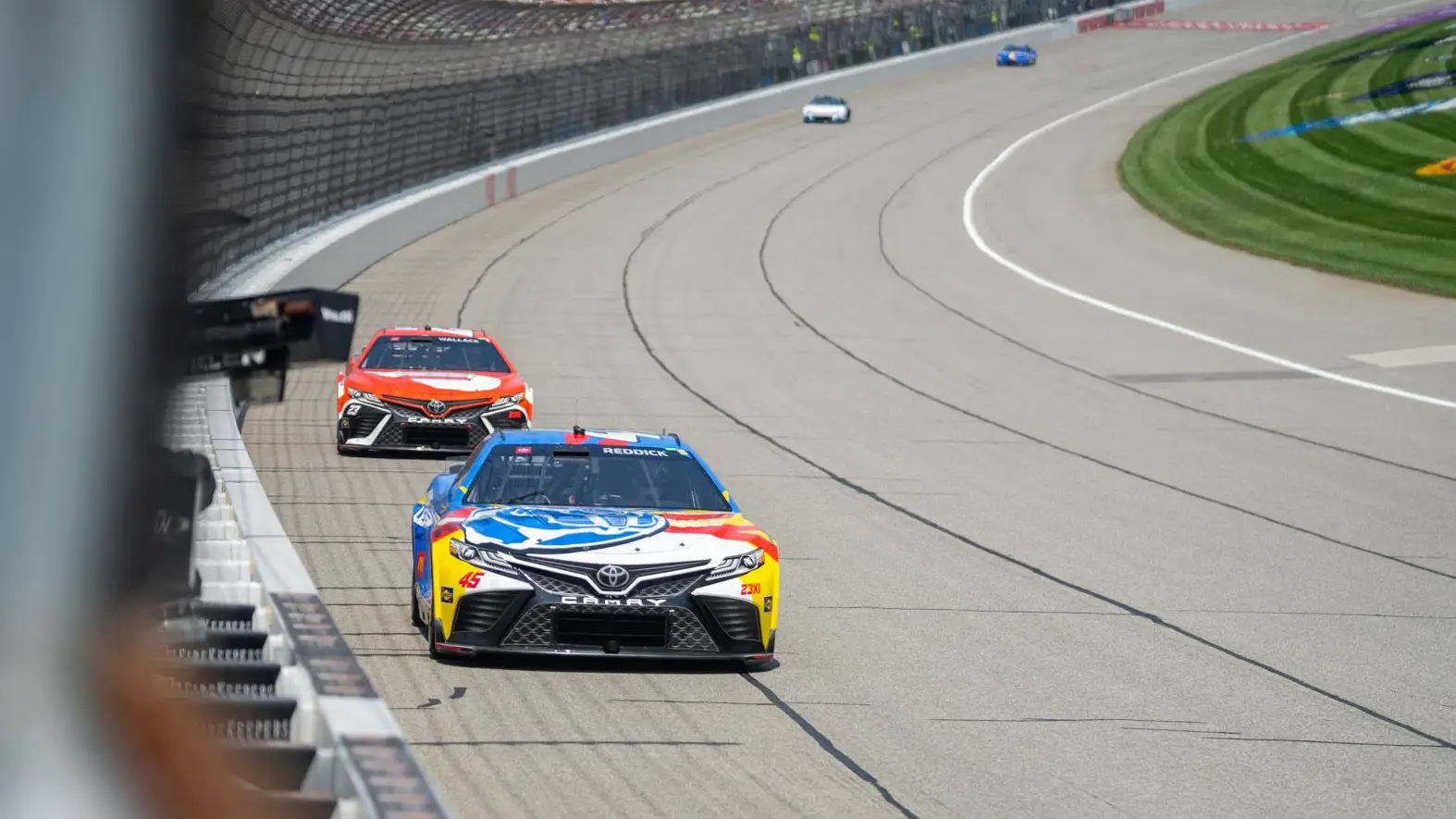 We've had NASCAR in Rocket League before, but on August 6th Rocket League hit the NASCAR track for the very first time! With Tyler Reddick at the wheel, 23XI's Toyota TRD Pro ran the FireKeepers Casino 400 in Michigan in full Soccar livery.
We've brought that same custom livery into the game with the 23XI #45: RLE Decal so you can use the in-game real-life-inspired car based on the IRL game car… wait… well, the point is you can drive it in Rocket League!
NASCAR 75TH Anniversary Complete Bundle (1100 Credits)
NASCAR 75th Anniversary Decal
Goodyear NASCAR Wheel
NASCAR Next Gen Toyota Camry Car

Joe Gibbs Racing #20 Decal
Joe Gibbs Racing #54 Decal
23XI #45: RLE Decal

NASCAR Next Gen Ford Mustang Car

Team Penske #2 Decal
Team Penske #12 Decal
Stewart-Haas Racing #41 Decal
Wood Brothers Racing #21 Decal
Front Row Motorsports #38 Decal
NASCAR Next Gen Chevy Camaro Car
Hendrick Motorsports #24 Decal
Kaulig Racing #31 Decal
Kaulig Racing #16 Decal
Live Fast Motorsports #78 Decal
Spire Motorsports #77 Decal
Legacy Motor Club #42 Decal
Hendrick Motorsports #9 Decal

*Note: The Team Decals and Goodyear NASCAR Wheels included in the NASCAR 75th Anniversary Bundle can only be equipped by the NASCAR Next Gen Ford Mustang, NASCAR Next Gen Chevrolet Camaro, and NASCAR Next Gen Toyota Camry. These cars cannot be customized with certain item types.
2022 NASCAR Fan Pass Returns
The 2022 Fan Pass is back for another lap! If you missed it last year, now's your chance to get the full collection of Team Decals and Player Banners. You'll also get specially designed NASCAR Decals that bring the thrills of stock racing to three fan-favorite cars: Octane, Dominus, and Fennec.
2022 Fan Pass (1100 Credits)
3 NASCAR Next Gen Cars

3 Rocket League Branded Decals
3 Next Gen Promo Decals

Next Gen Goodyear Racing Wheels
9 NASCAR Team Decals
9 NASCAR Team Player Banners
[/b]
[/list]
Start your engines—NASCAR returns to Rocket League from September 13 to September 26!





Source link